Book Information
Format
240 x 170 mm
Number of Pages
252 Pages
Illustrations
With 396 colour and 70 b/w photographs, 20 plans and maps
Binding
Paperback
Price
895 Baht / £16.95
ISBN
978 616 7339 45 0
Publication
Published 2006. Updated Edition 2014
Description

High in the mist-shrouded mountains of northern Laos, cut through by the Mekong river, is Luang Prabang, a remote town of glittering Buddhist temples and barefoot monks. The natural setting of the town, on a promontory by the river, encircled by an amphitheatre of steep, verdant mountains enhances its jewel-like identity.

In this lavishly illustrated book, the first to examine all the religious monuments, 33 Buddhist temples are shown, carved from wood and exquisitely frescoed and gilded, with layered roofs sweeping to the ground. Interiors are adorned with Buddhist images of serene grace and dignity.
The book also reveals the legacy of the French colonisers who arrived in the 19th century and built elegant villas and offices that blended harmoniously with Lao secular architectural traditions. The fusion of these two cultures resulted in a singular beauty.
Finally, the book celebrates the living arts, in particular the shimmering silkweaving, with photos of weavers and their wealth of ancient patterns and glorious colours. Once the preserve of the monarchy, these exceptional artistic skills have have recently been revived.

Luang Prabang, now a UNESCO World Heritage Site, is considered the best preserved town in Southeast Asia.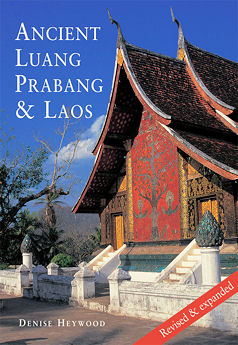 click for larger image
Availability:



River Books, 396 Maharaj Road, Tatien, Bangkok 10200
Tel: (66 2) 622-1900, 222-1290 Fax: (66 2) 225-3861
e-mail: riverps@ksc.th.com
www.riverbooksbk.com/ancient-luang-prabang-detail.html
River Books London, 3 Denbigh Road
London W11 2SJ
Tel: 020 7229 6765 Fax: 020 7792 0027
e-mail: sales@newcavendishbooks.co.uk
www.riverbooksbk.com/ancient-luang-prabang-detail.html

River Books are distributed in the UK and Europe by Thames & Hudson Ltd.
181A High Holborn, London WC1V 7QX
www.thamesandhudson.com

or contact Denise for further details